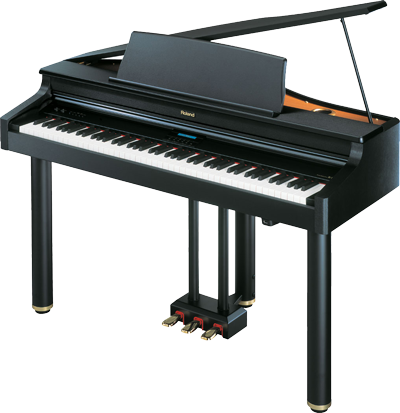 Planning your wedding
Nick invites all couples to his home in Brewood, Staffordshire so they can listen to the songs and music he has to offer, take down any specific requests they may have and generally plan the wedding music throughout the day. This consultation is offered as part of the service, however couples from further afield can chat and listen on the phone if travelling to Nicks home is no an option.
The Pianos
There are a variety of pianos available that Nick can provide for your wedding. The Roland RG-1 Slim Line Digital Grand offers a truly remarkable sound. It requires approximately 5 sq.ft to set up (a space of around 5ft x 5ft). It looks the part too, and because it takes some time to set up, Nick offers a second piano at no extra cost meaning that you can move the music seamlessly between one area of your venue to another.
Piano Hire
Nick can also arrange the hire of a selection of pianos to your taste. Fancy a Steinway Model D Concert Grand Piano at your wedding? This can be arranged accordingly. Such pianos look and sound incredible in grand establishments such as Chillington Hall in Staffordshire or The Addington Palace in Croydon. A piano truly fit for royalty.
Other pianos include: Steinway Model A Grand • Boston Steinway Grand • Yamaha G7 Black Grand 227 cms 7'6" • Yamaha G1 Black Grand 161 cms 5'3" • White Baby Grand • Black Yamaha professional upright model U3 • Black Kawai professional upright BL71